2022-02-07
Solution
You might not know...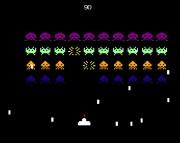 Space Invaders

In 1978 Tomohiro Nishikado developed in Japan Space Invaders: the highest-grossing entertainment product at the time and the highest-grossing video game of all time.
It gave a massive contribute to the expansion of gaming industry and in the 80s it became the first killer app, not just for arcade cabinets but also for home video game consoles.
Here we have some curiosities, can you guess which are true?